Travertine Tiles – The perfect paving solution
If you want to reinvent your backyard with a timeless and classic design, then you simply can't go past Travertine tiles. Made from reconstituted limestone, these pavers reflect a natural beauty and classic style.
Matched with a range of practical benefits, Travertine tiles are one of the best ways to start your outdoor project. Let's have a look at some of the benefits of the terrific travertine design now.
Natural & elegant.
One of the best ways to create a striking outdoor space is by embracing the natural beauty that's all around you. Travertine pavers do this perfectly, by providing an attractive natural look that can suit any style.
Unlike natural stone though, the travertine aesthetic is free of any inconsistencies, providing a stronger base for your exterior decoration.  So by laying travertine pavers you can enjoy a natural look that's easier on the eye.
Colours and Sizes available 
Travertine pavers aren't just beautiful, they're also flexible, meaning there is a wide range of ways you can apply them in your yard.
These pavers come in two different colour and sizes, giving you the flexibility to create your design.  Whatever your vision is, you can bring it to life with these classic pavers and a little bit of imagination.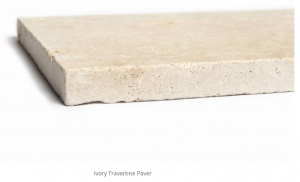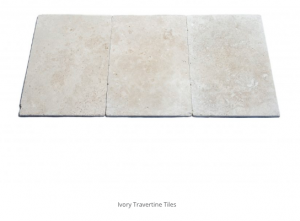 A Classic Style
Travertine pavers have a classic quality that almost anyone can enjoy. These pavers will work with your exterior design, whatever your style.  Whether you enjoy contemporary or traditional architecture, travertine pavers can blend with and complement these features.
A widely appealing style is sure to work wonders for your resale value too. This makes travertine pavers a great investment for family homes and rental properties alike.
Practically Beautiful.
Of course, even the most beautiful design wouldn't be complete without a range of practical features. Basically; Travertine tiles don't just look great, they have fantastic benefits.
As well as being made from reconstituted limestone, these pavers contain aggregate stone. This makes them stronger and longer lasting, mean fewer replacements and more money in your pocket.
Travertine tiles also come with built-in spacers. These won't just save you time on manual spacing, they'll ensure a consistent design and a more attractive overall look.
Travertine tiles are also naturally cooler during the summer months, making them the perfect product to complement your swimming pool or patio.  Now you can jump out of the swimming pool without having to worry about burning your bare feet!
If you'd like to learn more about outdoor pavers, have a chat with the landscaping experts at Australian Slate & Stone. We can provide you with the right pavers for your job, and as well- give you plenty of backyard tips.
Get in touch with the Aus. Slate & Stone team today to experience the travertine difference today!