Travertine Tiles – Types, Applications & Advice
What is a travertine tile?
Travertine is a variety of limestone that is created by mineral deposits within natural springs. Travertine stone (a sedimentary stone) is created through the rapid precipitation of calcite (also known as calcium carbonate). The distinctive trademark swirls that are formed within travertine occur when other minerals are mixed and blended together with calcite. Being a naturally occurring stone, travertine tiles are unique from one another and are extremely versatile at accomplishing different types of looks.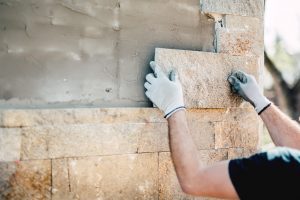 Travertine Tile Finishes
Travertine tiles come in several types of finishes, each evoking a different and unique look. Where you wish to install your travertine tiles (i.e. interior or exterior surfaces) can affect the type of finish that is best suited for your room and the style you're going for.
Polished travertine tiles – Polished or smoothed travertine tiles are used to make a shiny and ultra-reflective surface flooring. This glossy type of finish oozes class and luxury, but it can come at a steeper cost than other types of finishes. The associated costs with polishing, sealing and maintenance of this finish can add up over the lifespan of the flooring.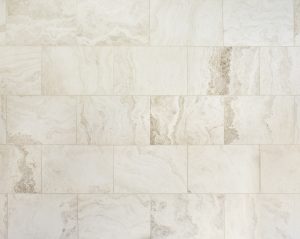 Matte travertine tiles – Honed or matte finish travertine tiles provide a textured matte aesthetic with none of the shine of a polished tile. These pavers are manufactured by grinding and buffing the top side of the raw travertine stone. They can add a certain flair of rustic authenticity to a given area.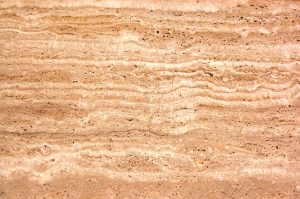 Tumbled travertine tiles – Tumbled travertine tiles are similar to honed tiles but with a much more antiquated look. Common characteristics of this type of paver include soft and worn edgework, rounded corners, acid wash and provide a traditional aesthetic. Tumbled travertine pavers are highly textured and are an ideal choice for wet areas (e.g. as swimming pool or bathroom tiles), but more on applications later.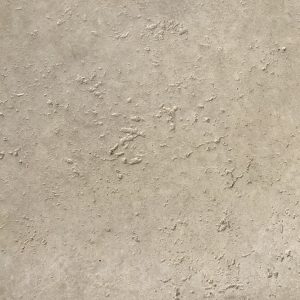 Brushed travertine tiles – Brushed travertine tiles are highly textured pavers, much like tumbled pavers but with one key difference. A metal wire brush has been treated over the raw stone to create the appearance of something both homely and sophisticated.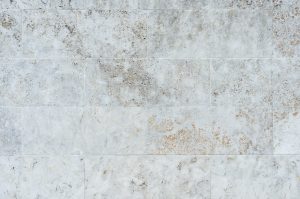 Travertine colours
Travertine stone is versatile in that it comes in a variety of different natural shades and tones such as; beige, mocha, brown, taupe, and even shimmering silvers. Travertine tiles can make simple earthy colours look striking and immaculate. Since travertine stone is a naturally occurring material; the patterns, textures (depending on the finish) and movement within each stone source means that no two looks are ever identical.
Application of travertine tiles in your home
As a general flooring surface
Travertine tiles are very durable, with an expected lifespan of approximately 100 years with proper maintenance, care and correct installation. It is important to note; untreated travertine stone is very porous (full of internal holes) and extremely susceptible to acidic substances. To get the most out of your travertine tile flooring, it is highly recommended to have it sealed (and re-sealed periodically) to avoid dirt and grime building up and more importantly to prevent any staining and structural damage to the tile.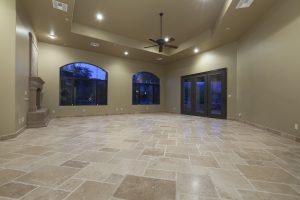 Interior Surfaces
Polished travertine tiles are exceptional as general interior surface tiles and as splashbacks in wet areas, particularly in bathrooms and kitchens. They add a touch of class and extravagance to your home and are well suited to opening corridors and hallways. Polished travertine tiles are so luxurious that they are often mistaken for more expensive floorings such as marble.
In comparison to the other flooring options, travertine tiles are a middling choice when it comes to hardness. They're somewhere between the softness of marble and the hardness of granite. This is important because they're not prone to chipping like granite, nor are they weak to scuff marks like marble. It's still good to exercise caution when shifting heavy objects on travertine tiles.
Since travertine tiles are temperature resistant, they will remain cold, so laying down rugs in family and living areas may be prudent. That being said, travertine tiles pair well with an in-floor heating system, as they can retain heat for extended periods of time to make the flooring more comfortable.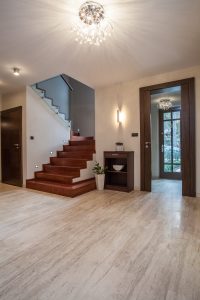 Exterior Surfaces
Honed travertine pavers are well suited to general exterior surfaces, particularly as pool coping around swimming pools. This is because the coarse texture of these pavers makes them slip resistant. In addition to this, travertine tiles are excellent at retaining temperature, which makes them cool under-foot even after baking under the sun all day. Honed and tumbled travertine pavers are stunning and can add a rustic and country feel to your garden.
Polished travertine tiles can make a surface very slippery when wet, so it is strongly advised to avoid installing them as surface flooring around swimming pools and other wet areas. Polished travertine is also more prone to scratches and cuts when exposed to the natural elements.  It's much easier (and budget friendly) to maintain that lustrous shiny surface when these tiles are installed inside.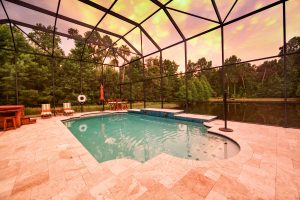 Popular travertine tile patterns 
French pattern travertine tiles
French pattern tiles are commonly used for interior floor surfaces, as it gives open spaces a very European and heritage aesthetic. It also can be used in some country or coastal styled homes in outdoor settings. This pattern is not as refined as other patterns due to the use of different sized tiles but still has an air of sophistication.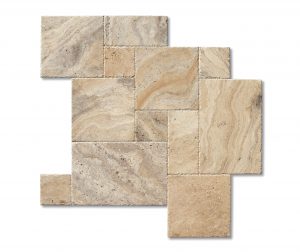 Regular pattern travertine tiles
Regular pattern is the most commonly used pattern across the spectrum of pattern types. The symmetrical square fit pattern often goes unnoticed due to its simplicity, and because of this polished travertine tiles can look even more prestigious.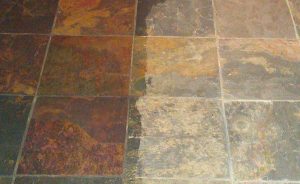 Brick bond pattern travertine tiles
Brick bond pattern is similar to that of regular pattern however its jagged lines can attract more attention, so it would perhaps be better suited to a textured finish tile like tumbled or honed travertine pavers. Brick bond pattern is more commonly used for exterior applications like walls and walkways around your home.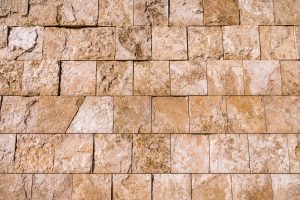 Herringbone pattern travertine tiles
Herringbone pattern is often associated with tiling as splashbacks in areas such as kitchen and bathroom walls. This unique triangular pattern utilises smaller sized tiles and looks glorious in a polished finish. It can also look really charming as a feature flooring, by taking advantage of the unique contrasting tones of colour in travertine tiles.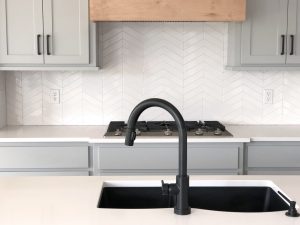 Important information about travertine tiles
It's wise to purchase several spare tiles (in appropriate sizes), in the event that one of them gets damaged. You will need a spare tile from the original batch of travertine tiles, as it's almost impossible to match travertine tile colours and patterns across different batches of stone.
It's really important to consider the difference between the different finishes of travertine tiles; for its application in each room, the associated costs and how to clean and maintain them. Having them sealed goes a long way in getting the most out of these tiles, and can make them last up to 100 years.
Always use non-acidic cleaning products when cleaning up spills on travertine tiles. By cleaning up any spills as soon as possible with natural cleaning products you can drastically reduce the likelihood of staining them.
Travertine tiles are not easy to install as a DIY job, they're very heavy and challenging to cut, requiring wet saws with diamond tipped blades. Australian Slate & Stone are the stone experts and are very experienced in cutting and installing custom projects with travertine tiles.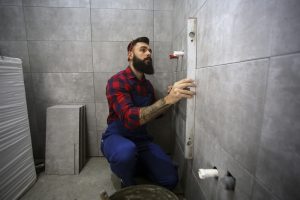 For more information regarding the availability of our travertine tiles and how we can install your project, call us today on (03) 9894 0222 or email us your enquiry at info@australianslateandstone.com.au