Which Tile Type Should You Choose – Granite, Slate or Travertine?
Are you trying to choose which type of slate and stone tiles you should use in or around your home but can't quite make your mind up? Here, we look three popular types, slate tile, granite tile and travertine tile, to help make your decision process a little easier.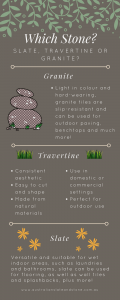 Granite Tiles
Granite tiles are an affordable, good-quality tiling and paving solution. They're one of the most common natural stones in household applications and can be used for bench tops, floor tiles, outdoor paving, stair treads and even feature wall cladding.
Granite stone usually comes with a beautiful textured finish but can also come with a flat matte appearance that's free of any shine or lustre. However, if you do want a shinier surface for your indoor flooring or a feature wall, you can purchase polished granite tiles.
The main benefits of granite tile are that they're aesthetically pleasing, slip-resistant and hard wearing.
Slate Tiles
There's no denying the exceptional beauty and durability of natural stone or how easily it can increase the visual appeal and market value of a home.
Quarried from the earth, slate is a natural material that's often used as a flooring solution. Slate tiles are a beautiful alternative to contemporary porcelain tiles because, when properly sealed, they're stain-resistant, long-lasting in high-traffic areas, suitable for use in wet areas and versatile and fire-proof.
Travertine Tiles
Travertine tiles are usually used for remodelling, decorating, and landscaping purposes. They can incorporate a natural looking aesthetic into either domestic or commercial settings. Travertine tiles are available in polished, matte, brushed or tumbled finishes in a selection of colours that range from ivory to a reddish brown.
They're used primarily in outdoor applications, but can be used indoors if you want to achieve a vintage aesthetic. When used indoors, they're suitable for floor tiles and bathroom wall tiles.
Made from quality natural materials, they're easy to cut and shape and can be used in oddly shaped or awkward areas.
All of these types of stone come with a host of benefits, and more often than not, which stone you choose will come down to personal taste and where you would like to install the stone. To learn more about which type of stone is right for you, contact Australian Slate & Stone today!